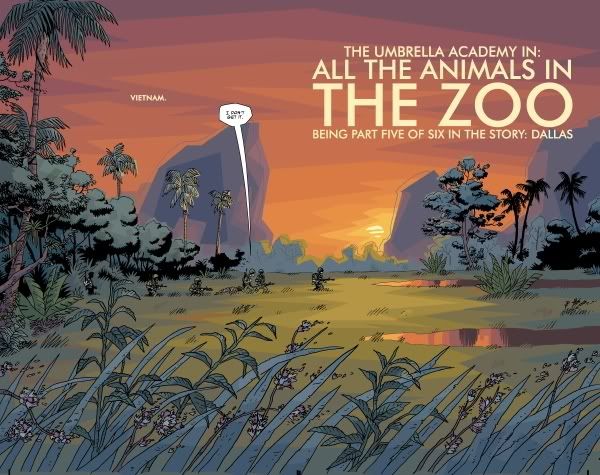 The Umbrella Academy: Dallas
by Gerard Way and Gabriel Bá
~
Umbrella Academy: Apocalypse Suite
presented a distorted view of the concept of family, seeking to reveal through the medium of comics that even the seemingly heroic and virtuous have had difficult upbringings. While one would expect darker characters and villains to be the products of dysfunctional families,
UA: Apocalypse Suite
posited that not even the most noble and altruistic hero has had a completely satisfactory upbringing. The childhood of young Clark Kent, growing up in Smallville with living saints for parents is put forth as being a lie, and one expects that Bruce Wayne's upbringing with no parents would be considered favorable. The kids of the Umbrella Academy had only one father to speak of, Reginald Hargreeves, a man who saw himself as headmaster first, and father second or third or perhaps even not as a father at all. The final judgment that the first volume made in its critique of family life was that all families are imperfect, and one needs to accept and deal with the mistakes and shortcomings of others as well as themselves in order to be a functioning and mature person.
UA: Dallas
retains the dysfunctiona of the family, but instead of offering a critique of normal family life, it proceeds to offer a critique of America. These concepts walk hand in hand to a degree; we have the portrait of the American "nuclear" family from the 1950's, which has proven to be an unattainable ideal. While there are many families who've managed to attain something similar to Ozzie and Harriet, one imagines that in sacrificing their dysfunction, they've sacrificed that which would make them unique and interesting. They essentially sell their souls in order to become conventionally ideal. So it follows that a redefinition of perfection needs to be made, one that includes no small measure of dysfunction, and the pain and suffering that goes with it. I'm reminded of Wes Anderson's "The Royal Tenenbaums", where all of the members of the family were unique interesting people, but who were also infinitely troubled and strange. And it's this strangeness and sorrow that made the characters special.
So instead of painting a portrait of America as a model of perfection,
UA
gives us an absurd, melancholy and violent portrait. America is not built on altruism and noble beliefs; it's built on a series of assassinations and a history of imperialism and warfare. The history of America as portrayed in
UA
is sordid, schizophrenic and filled with confused decisions. However, unlike it's portrayal of family life, which
UA
presents as damaged but fixable, the history of America is presented as perverse, and as showing no signs of disrupting its never-ending cycle of chaos. People may be able to fix their own lives, but they can't stop the world from turning. This is a cynical view for a comic book to take, especially during this current epoch that is filled with a spirit of hope and change.
The plot revolves around the characters traveling backwards through time and trying to prevent the assassination of President John F. Kennedy. The heroes become split into two groups, with one group trying to save Kennedy, and the other group trying to keep history intact. The heroes fight tooth and nail against one another, and finally they manage to preserve the course of history. However, after all of the infighting and backstabbing, no character can be seen as having behaved gloriously. Only the fact that if Kennedy had not been assassinated the price would have been that the world would have been destroyed makes the outcome seem beneficent. The book ends with the characters chastising and scorning one another, and after all is said and done everyone is left with a bad taste in their mouths, and they can barely stand to be in the presence of each other.
This focusing on the zeitgeist of the sixties and this pontification on the so-called "Kennedy lie" is nothing new in fiction, but the timing of the publication of this book is. One expects that the book was released concurrently with the first months of the Obama administration in order to tap into the obvious similarities between Presidents Obama and Kennedy. However, since the book was released so recently, I can only assume that it was written during the run-up to the 2008 election, when there was still the possibility of there being a President McCain. I wonder how this book would have read if that had come to be, with Obama's spirit of hope soundly quashed. I suspect the cynical spirit of the book would have rung even truer.
It bears mentioning that the first pages of
UA: Dallas
feature a re-enactment of the assassination of President Abraham Lincoln, albeit an assassination of the animated statue of Lincoln from the memorial in Washington D.C. Assassinations are grisly businesses and when a leader rises up who is an inspiration for many, it often follows that the leader also inspires violent hatred in a few other people, as well. The history of the 20th century was rife with political assassinations, a plague that unfortunately continues into this century. One would hope that would-be assassins would step back and realize that when a public figure is murdered for political reasons it serves to make their message stronger not weaker. It serves to convert people to the leader's message, not the killer's. I think of the recent murder of Dr. George Tiller, and I know that instead of turning me into a pro-lifer, the violent and senseless act of killing a man, in a church on Sunday no less, has made me only a more fervent believer in a woman's right to choose.
A few quick words about the art team of Gabriel Bá and Dave Stewart; they're great. I think they were the perfect choices for UA, and Bá's ability to create a world of stylized mania is nonpareil. The stick by which I measure a comics artist's skill is how well the characters act, and Bá gives these people a full and empathetic range of emotion. He makes the reader feel what the characters are feeling, and takes us into their psyche and makes us feel what it might be to inhabit their world.